Recycled

Fir Flooring
Wide plank flooring at a reasonable cost. Sawn and machined from recycled fir timbers.
Talk to our knowledgeable staff.
(208) 823-4331
Flooring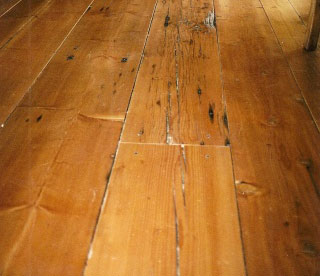 IGL Recycled Timbers specializes in 10" wide Recycled Fir flooring. This flooring is tongue and grooved with a net 10" face. IGL can produce any size flooring on a custom order basis. All stocked flooring is produced with a smooth face or can be ordered with a band sawn texture, circle sawn texture, or "hit and miss" natural patina finish.
We have two grades of recycled fir flooring:
IGL #1 FLOORING - This grade will have limited historical defects and small to medium checking
IGL #2 FLOORING – This grade will have more historical defects and medium to large checking
All IGL Recycled Flooring is sawn from larger reclaimed timbers and will contain some historical defects:
Nail holes and associated stain
Bolt holes and associated stain
Seasoning checking
Solid and some loose or missing knots
Cosmetic defects from use during the woods prior life
All of which add to the distinct recycled look
IGL Recycled Timbers can also be your source for Antique Hardwood Flooring.
Please contact us for a quote.
Be Inspired. View our project galleries
10,000 square feet
in stock at all times. We can ship your order today.
More about IGL Recycled Timbers
Call Today!
(208) 823-4331
or Contact Us