Solid Wood

Custom Doors
Let IGL Recycled Timbers design and build truly custom doors for your next project. We specialize in doors made from recycled lumber.
Talk to our knowledgeable staff.
(208) 823-4331
Doors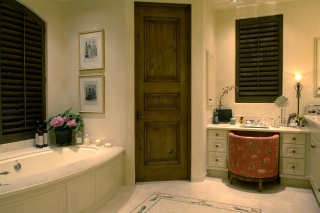 IGL Recycled Timbers has been in the custom door business since 1972. Under the original name for the company, Ketchum Millworks, we built custom doors for the Sun Valley Ski Area's high end vacation homes. When IGL Recycled Timbers was started we decided to continue manufacturing these doors.
IGL Recycled Timbers specializes in doors built using recycled woods. The recycled wood is hand selected from our large inventory of timbers. The timbers are then sawn into 4/4 boards and dried in our dehumidification kiln. After drying, the boards are machined, glued into triple lamination stile and rail door parts and assembled into doors. This triple lamination process results in a superior and very stable door.
IGL Recycled Timbers presses can also build doors using new wood. We strive to use FSC certified wood when ever possible. Using the same manufacturing process as our recycled wood doors we can produce beautiful and lasting doors to your specifications.
Be Inspired. View our project galleries
35 Years
building custom doors. Solid wood triple laminated stile and rail or plank doors.
More about IGL Recycled Timbers
Call Today!
(208) 823-4331
or Contact Us